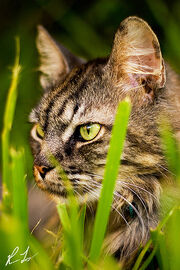 Brownstar is a brown tom with amber eyes and black stripes.
Leader of LightningClan.
Brownkit was born to Honeyfern and Brightfern of StreamClan with Brindlekit(Brindleclaw), Shadekit(Shadestone), Pumakit(Pumaclaw), Kitekit(Kitestorm), and Blackkit(Blackstorm). His father kitnape Kitekit and Blackkit. A ShadeClan warrior kitnape remaining kits but not him and Brindlekit.
He got apprentice to Sunheart(Sunstar) and his sister got Oneclaw. He fell in love with another apprentice name Morningpaw(Morningglow).
He fought in many battles aganist the other clans. He became a warrior before his sibling Brindlepaw. His warrior name was Brownheart.
Unknown right now. But his he has a mate name Morninglow and has three kits that are toms.
Honeyfern: desscend verrify in MoonClan
Brightfern: alive in StreamClan
Brindleclaw:alive
Kitestorm: alive in ShadeClan
Shadestone: alive in ShadeClan
Blackstorm: alive in StreamClan
Pumaclaw: alive in ShadeClan
Berrysplash: alive in StreamClan
Sandkit: alive
Volekit: alive in StreamClan
Dustkit: alive
Morningglow: alive
Lynxkit: alive
Pumakit: alive
Shadekit: alive
Personality
Edit
Brownstar is a ferice, brave, secrety, and strong.
Community content is available under
CC-BY-SA
unless otherwise noted.