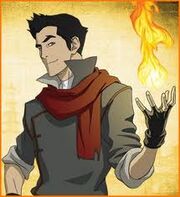 Mako is a black hair boy with red eyes. A fire bender.
Citizen of Republic City.
He is born to unknown parents, he has a younger brother name Bolin. At the age of eight his parnets were mugged by evil fire benders. He had a girlfriend name Katniss.
He is seen when Katniss is doing overseeing powers and hears him talking to Bolin and Korra saying."No Bolin it might." "What if Equallist are in there." "Oh k lets get in the forest." Then he gets into a fight with them.
Girlfriend
Edit
Asmai: alive
Unknown: desscend
Unknown: desscend
Bolin: alive
Personality
Edit