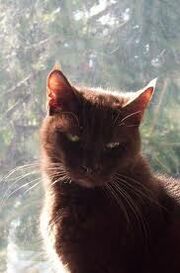 Nicholasheart/Stonestripe

Currently

Current: MountainClan

Past: Tae Kwon Do Cats

Names

Kit: Nicholas

Apprentice: Nicholas

Warrior: Nicholas or Nicholasheart, Stonestripe

Family

Mother: Molly

Father: Hardstar

Brother: Patrick
Nicholasheart is a brown tom with brown eyes.
Warrior of MountainClan.
He was born to Hard and Molly in the middle of green-leaf. He has a older sibling name Patrick. His father left them to Tribe of Pointy Rocks.
Nicholas fights three cats and was knock uncounsise.
He found himself in Warriors den and meet Boulderpelt who looks like Ella, Fernice, and Cavetail who they woke him up. He got his warrior name Nicholasheart and Stonestripe. He fell in love with Rockpaw.
Allie: alive in Tae Kwon Do Cats
Molly: alive in Tae Kwon Do Cats.
Hardstar: alive
Patrick: alive in Tae Kwon Do Cats.
Haft Brothers:
Edit
Spikekit: alive
Skykit: alive
Haft Mother:
Edit
Whiskerstone: alive
Lucy: alive in Karate Cats
Personality
Edit
He is a brown/black belt
He is haft clan and haft rogue cause of his father and his aunt.
He will become mates with Rockpaw(Rockstone).
He will mentor Spikekit.