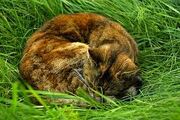 Rockpaw

Currently in

Current: MountainClan

Past: None

Names:

Kit: Rockkit

Apprentice: Rockpaw

Family

Mother: Honeypelt

Father: Cavetail

Brother: Thunderpaw, Hawkkit

Sisters: Sunkit, Dovekit
Rockpaw is a pretty grey she-cat with glowing green eyes and dark ginger stripes.
Apprentice of MountainClan
Rockkit was born to Cavetail and Honeypelt with one sibling name Thunderkit(Thunderpaw) in the middle of Leaf-bare.
She got her apprentice name at the age of 6 moons old and her mentor is Fernstone.
She was first seen playing with Skykit and Whiskerstone when Nicholas is walking out of the warriors den with her father. She yells the loudest after Nicholasheart got his warrior
Honeypelt: alive
Cavetail: alive
Brothers:
Edit
Thunderpaw: alive
Hawkkit: alive
Sunkit: alive
Dovekit: alive
Personality
Edit
Her warrior name will be Rockstone.
She and Nicholasheart will be mates.
She is haft clan cause her father was born in Tribe of Pointy Rocks.